Our Story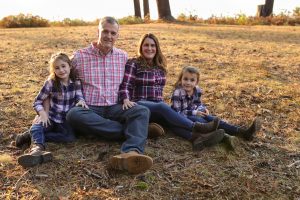 When I was younger, woodworking became a passion of mine. I found that the hands on process of building, sanding, and finishing a piece is always rewarding. Not unlike painting, careful preparation is required to ready a piece for finishing. This is the part I enjoy most of all. It makes me slow down and pay attention to details.
In the fall of 2001, in the midst of contemplating a career change, an opportunity to work for a local painting company arose. It was there that I was taught the foundation for high quality finish work. I enjoyed the challenge of going above and beyond the customers' expectations. My employer began to get requests from clients for me to complete their painting projects. I was grateful for the experience each job provided.
My wife's grandfather became a great mentor to me. He was an electrician by trade and eventually opened his own business. We talked at length about many things pertaining to running a business. I learned a lot from him. A few things I took away from our discussions are: Always make sure a job is done right the first time. It is important to be honest, have integrity and take pride in your work. It is extremely important to be respectful when working in someone's home. To this day, I appreciate his advice and insights. It was because of his encouragement that I decided to open my own business.
In 2007, I opened Hanson Painting. I wanted to provide my clients with an exceptional painting experience. Attention to detail is what set my business apart from other painting contractors. When the recession hit, it was a struggle to stay afloat. Through determination and hard work, I began to grow my clientele and establish myself as a high quality residential painting contractor. Referrals (We love them!) began to pour in.
In 2011 and 2013, we welcomed our 2 daughters. Even with running a busy, growing business, we still find time to spend as a family. Whether we are scouting the flea market for cool stuff to repurpose or refinish, hanging out at the local farm, walking our 4 dogs, or enjoying New Found lake in the warmer months, adventure abounds. We are 3rd generation in a lovingly built family home. Having a warm, comfortable and inviting space for family and friends to gather is important to us. Your home is about creating memories. At Hanson Painting, we want to help you design a room that you can't wait to come home to.