Making A Statement With Your Exterior Door And How To Maintain It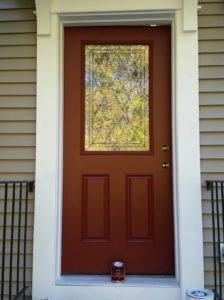 Believe it or not, spring is right around the corner! With that, now is the time to evaluate your home's exterior. As you pull into your driveway after a long day at work, you notice your front door has seen better days. Maybe you have been wanting to change the color of the door (check out this month's issue of Country Living magazine pg 68 Make An Entrance), or it needs a fresh coat to maintain the paint finish, or maybe it needs a clear coat finish for another year. Spring is a great time to paint  your exterior door.
The  weather here in the northeast is tough on exterior doors of all types. The humid weather in the summer, to the snowy cold winters challenges exterior coatings on a daily basis. Frequent daily use also wears on a doors finish leading to failure of the coating. The best defense against premature failure of a coating or damage to the door itself is maintenance. Most exterior doors today are made from wood, metal or fiberglass materials. All these types of doors will hold paint or clear coats well if properely maintained.
So What Should You Do?
Spot check your doors annually and inspect the finish. You are looking for cracking in the finish or chipped, peeling areas of paint.
If your door is not exposed to sunlight, it may grow mildew. This should be cleaned off regularly to protect the finish. Mildew attaches to the finish and eventually grows into the finish causing failure.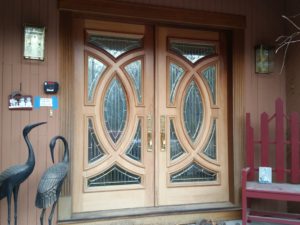 A painted door finish will last years longer than a door that has clear coat finish. Clear coated doors require more inspection and maintenance to protect the wood from damage. A wood door that has a clear coat finish, and is exposed to the sun and elements will require a maintenance coat at least annually to maintain a protective finish to the wood. If not maintained, the door's finish will fade, as well as the ultraviolet resistance in the coating, which will lead to bleaching of the wood itself. The door in the photo above has not been maintained and the wood itself is starting to bleach out where it is exposed to the sun. If you look at the top of the door in the photo, you can see some color where it was not exposed to the sun.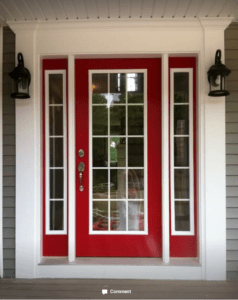 The exterior door of your front entry will always be the first thing people notice when visiting or driving by your home. Choosing the right color for your door, will compliment your home's exterior. What does your door say about you? According to Feng Shui, the color of your front door can have an impact on the whole house. A red door symbolizes welcome, positive energy and abundance. Our pick: Benjamin Moore Cottage Red. The color blue is shown to be the most popular pick. It draws homeowners for its calming and relaxing qualities, making your home a peaceful retreat. We love Benjamin Moore Pacific Ocean Blue and Benjamin Moore Bedford Blue. Whichever color you choose, it is important to remember to properly maintain your exterior door. We can help! Contact Hanson Painting for more information.