Painting Kitchen Cabinets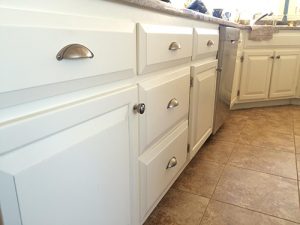 Are your kitchen cabinets looking worn and need a fresh new look? Have you been thinking about taking on the task of painting them? Replacing kitchen cabinets is very expensive and time consuming. Your kitchen use will be lost for weeks, if not months.
PAINTING STAINED AND FINISHED CABINETS
1.The first and most important step is to clean all surfaces to be painted thoroughly with a degreaser solution. There are many products on the market, but one of my favorites is Krud Kutter. The accumulation of grease and grime  over the years has to be removed for a successful finish.
2. Remove all door and drawer pulls and bag if reusing. Remove all hinges on doors and bag as well. Label all doors in a pattern for reinstallation.
3. Sand all surfaces to be painted with 220 grit sandpaper.
4. Apply an oil base primer or shellac based primer
5. Apply 2 coats of a quality cabinet paint.(We prefer Benjamin Moore Advance for cabinets).
6. Reinstall old hardware or new hardware for a fresh new look.
This is a very basic list of steps to get you started. Be aware that cabinet painting has many steps and takes time and patience. We at Hanson Painting have found that a sprayed factory looking finish is most desired by our clients. Hanson Painting sprays all cabinet doors offsite. The cabinet boxes are sprayed in place after masking off countertops and cabinet openings. We have been painting cabinets for over 15 years and enjoy the process and most of all the wow factor of the finish product.
Feel free to contact me with any questions you may have with this project or any other paint related questions.
Bill@hanson-painting.com
978-559-1057