Small Painting Projects? We Have You Covered!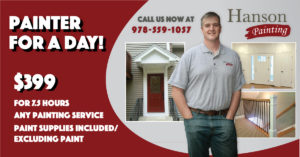 Do you have painting projects around your home that never seem to get done?  Between work commitments, kids activities, and something going on every weekend, when do you have time to get started?! Hanson Painting is happy to introduce our Painter For A Day program. This is a great new program for our customers who wish to have 7.5 hours of a professional painting work on any project of their choice. While paint is not included in the price, all other paint supplies are included!  Let our painter come in and finish the project that you have been putting off until next week, month or year.
Although we will be happy to work on any project you would like for the day, we have compiled a list of a few suggestions for projects a single painter can finish in a day.
Painter For A Day Suggestions:
-Exterior Doors
-Exterior Trim Touch Ups
-Exterior Garage Doors
-Interior Trim Touch Ups
-Small Bathroom Ceilings and Walls
-Small Bedroom Walls
-Touch Ups In High Traffic Areas
-Hallway Walls
-Multiple Ceilings
We would be happy to help you compile a list of small projects that the painter can accomplish in a day around your home. Our Painter will work 7.5 hours to complete your project list. Painter For A Day is perfect for difficult projects that are either to high or require professional equiptment that we provide.
Painter For A Day is also great for large projects when the budget doesn't allow for a completed project. Our painter can help you get started with preparation work and set you on an organized path to a finished project. Enjoy your weekends again and take advantage of our Painter For A Day Program!
Call Today For A Free Consultation!